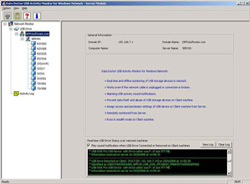 Data protection tool for windows network
For Download Free Trial Contact us at:


support@prodatadoctor.com
USB data protection tool for windows network
USB Data Theft Protection Tool for Windows Network monitors and saves USB mass storage device activities in your local area network and prevents the unauthorized access of USB devices in real time. Anti data theft utility provides real time and offline monitoring of the USB drives and alerts you when any USB storage media is inserted or removed from any system connected with in the network. The administrator is fully capable to change the access and permission settings of the USB port devices on client's machines.
Data protection tool is capable to monitor multiple Computer system at one time even when the network cable is unplugged or the connection is broken. Monitoring log file is prepared in HTML format providing the detailed information of USB drive plug-in and plug-out activities in real time. Software also provides detailed information of USB drive activities that includes USB drive Status, Client PC's Name, IP Address along with date and time, USB Drive Name, hardware ID and device capacity etc.
The USB protection software is helpful for any professional organization, investigation, Lab etc to remotely monitor USB mass storage media drive activities in hidden way.
Software Features:
Provide real time and offline monitoring of USB mass storage drive's activities over Windows network.
Facilitates user with a sound beep that is played whenever any USB device is inserted or removed from the system connected to a network.
Saves detection and removal activities of USB devices performed on connected systems in a log file.
Facility of creating activity log file for the changes made in access and permission settings by the Server.
Capable to monitor USB drive activities of multiple PC simultaneously within local area network.