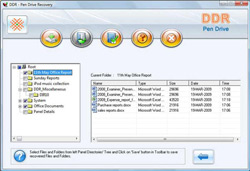 Pen drive data recovery software Just $45
Pen drive data recovery software is used to recover lost files and folders from your Pen drive, Memory stick, Jump drive, Handy drive and many similar pen drive storage media. Easily undelete files lost unintentionally or due to corrupted media.
The memory stick data recovery software restores doc, pdf, exe, jpg, gif, mp3, wav, mov, xls, ppt, midi, bmp files and other similar file types.
The memory stick files recovery utility provides support in recovering data from your branded pen drive USB storage media. Support all type of latest USB drives including Apacer, Kingmax, Lexar, PQI, Super Flash, Transcend, Sony, Sandisk in capacities 128MB, 256MB, 512MB, 1GB, 2GB, 4GB, 8GB and even higher capacity drives etc.