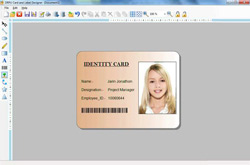 Card Maker and Label Designing Software $45
ID card maker and label designing software creates high resolution ID cards and labels in minimal time and efforts. You can easily generate business cards in any design, color and in better quality graphics as per your requirement.
By using ID card making utility you can easily design your own style ID cards, Tags, Coupons, Leaflets, Letterheads, Address labels, ID/Name badges, Invitation cards, Visiting cards, Stickers etc to meet your business labeling needs.
ID card creating application provides excellent methodology to design and generate best quality ID cards in just few easy mouse clicks. Label designing software creates best quality labels and cards using advanced label designing objects like Line, Star, Ellipse, Pencil, Rectangle, Text, Barcode, Picture, Arc, Triangle and other similar image designing tools.